Yesterday, I looked up chicken recipes on Pinterest for new ideas of what to do with chicken besides the same ol', same ol'. I ended up finding this recipe from Plain Chicken and decided to try it. I have to admit though, that I picked this recipe based on the picture that was in the pin. Ingredients: 4 boneless chicken breast 3/4 cup honey 1/2 cup dijon mustard 1 tsp lemon juice 1/2 tsp paprika Lemon pepper to taste 4 tbsp bacon 1 cup shredded mozzarella cheese
Directions: Preheat oven to 375.
Season chicken breasts with lemon pepper. Place in 9x13 baking dish.
Combine honey, mustard, lemon juice and paprika. Pour over chicken. Bake for 20-25 minutes.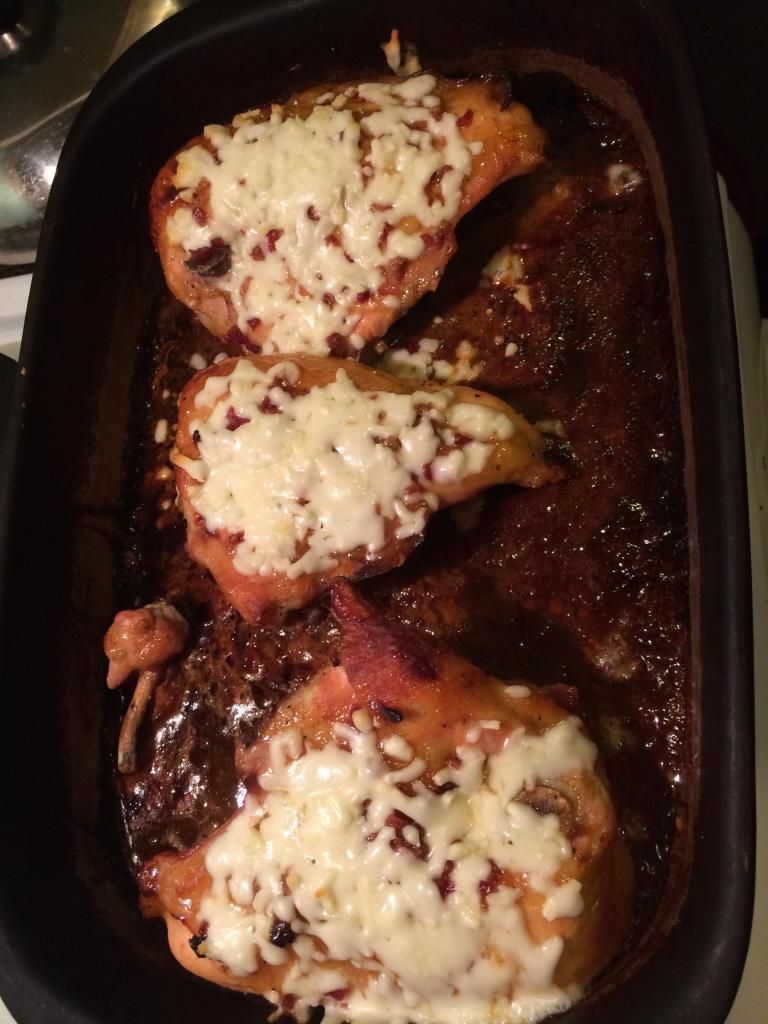 Top each chicken breast with 1 tablespoon of bacon and 1/4 cup mozzarella cheese. Continue to bake until cheese is starting to brown. [About 10 minutes]
Wah-lah - the dish is done! Of course, once you make a dish and try it for the first time, you can figure out how you might want to make it next time. The blog that I got the recipe from, had a tip to maybe marinate the chicken in the mixture the night before you make it. Another suggestion was to keep a little bit of the mixture on the side and heat it up so you can dip the chicken into it.
This dish is ridiculously easy to make. We ended up using breasts with bones, and it still came out just as tasty.